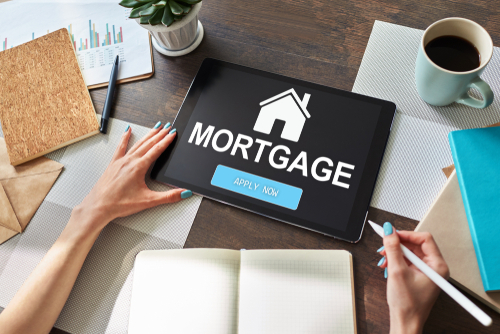 The COVID-19 pandemic brought the UK's property market to a standstill, with very few sales taking place at the time. Now that lockdown measures have eased, the market is gradually reopening, which is impacting house prices and mortgage rates.
If you're considering buying a property, here's some useful information about mortgages, and what to expect in the future.
Are people buying property again?
As soon as the government announced that property viewings could take place again, homes started to sell – unsurprising after so many weeks of inaction. In fact, just one provider claimed that mortgage applications had risen by 36% after lockdown was eased, which is a notable increase.
An industry insider stated: "With the positive news that physical valuations can take place again and estate agents opening, we are seeing an increase in mortgage application calls, but as we enter unchartered waters, even experienced purchasers and sellers may not be sure what the right moves are."
What is the impact on mortgages?
At present, it's too soon to predict how straightforward getting a mortgage will be. Experts predict that the following may happen:
Property values may fluctuate until the end of the year, then the market should recover.
Buyers may be in a more powerful position to negotiate prices, particularly if they're a cash buyer, or are chain-free.
If a lower price is agreed, the mortgage provider may wish to revalue to the property.
More properties may become available to first-time buyers.
However, first-time buyers may find it slightly harder to obtain a mortgage, as providers may exert more caution.
Are there bargains to be had?
At the moment, the Bank of England's interest rate is the lowest it's ever been, at just 0.1%. This should impact mortgage rates, making them lower. Mortgage brokers are currently lending without requiring large deposits, which makes property buying more affordable.
However, the future is uncertain, and it's difficult to predict what the interest rates will be in the coming months and years. If you opt for a variable mortgage, for example, this may be beneficial in the short term, but you need to make sure you can still afford the monthly payment if the interest rates increase further down the line.
Will furloughing have an impact?
Some furloughed homeowners have expressed concerns about their mortgage, especially as some lenders have asked them to provide a letter from their employer, stating that they'll still be employed when the furlough scheme ends.
If the employer refuses to write the letter, this may mean that furloughed property owners will find it hard to remortgage their homes, or apply for a new mortgage. The most likely option for people in this situation is to opt for a variable mortgage, rather than a fixed-rate, as it's more probable they'll be approved for a variable.
To buy or not to buy?
There are some distinct advantages to buying now. Properties are likely to be a bit cheaper for a while, and there's been a surge of new homes on the market, which widens the range of choice.
The main thing is to check your finances and ensure that you're able to keep up with mortgage payments for the long-term. If you are, there's no reason why you shouldn't start looking for property at this time.
The opinions expressed in this article reflect our experience of the current situation but shouldn't be seen as specific advice. For your personal situation please take professional advice from an accredited mortgage broker or financial adviser.
Hastings International are able to help you find the perfect property to buy. Please visit our Buying Property page or get in touch with one of our team.
References
https://www.halifaxcourier.co.uk/business/consumer/halifax-says-mortgage-applications-soar-after-lockdown-ends-2862873
https://www.thisismoney.co.uk/money/mortgageshome/article-8336859/Should-make-REALLY-good-time-buy-sell.html
https://www.homesandproperty.co.uk/property-news/coronavirus-impact-property-market-value-a138141.html