Hastings International are an established estate and letting agency in London Bridge. We work with homebuyers, sellers, landlords and tenants, matching people with the perfect property for their requirements.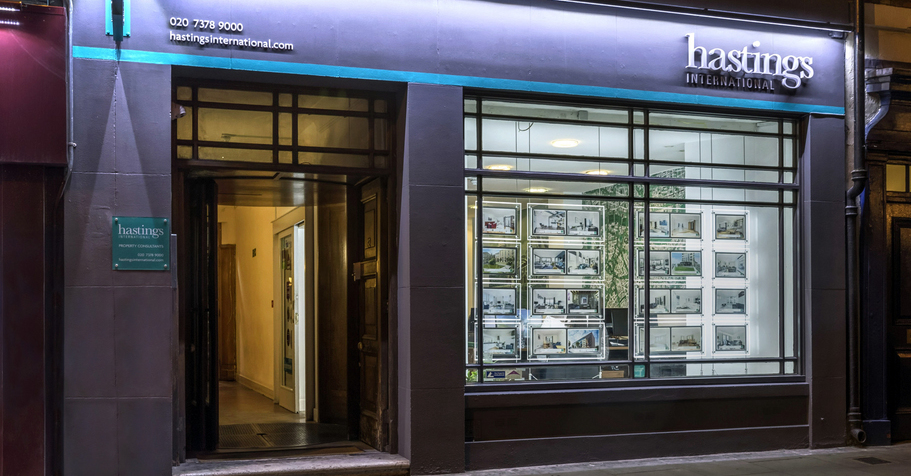 Our London Bridge office is situated close to the tube station, near the corner of Southwark Street and Borough High Street. The team are led by Thomas Backlog who has extensive expertise and experience within the industry.
London Bridge Property
London Bridge has a diverse property market with a good range of period and modern homes for sale and to let. It's a prime location, close to numerous transport links which has pushed prices upwards, particularly in the riverside area, as views of the Thames are sought-after.
Developers have been busy in London Bridge, which means there are several contemporary apartment blocks on the market. These usually contain either one or two bedroomed flats. However, there are some period terraced properties in the area too and converted warehouse buildings. Thanks to the area's illustrious heritage some of the homes even have historic significance.
As SE1 estate agents, we've got in-depth knowledge of the local market. We cover London Bridge and beyond, so if you're looking to rent or buy a property in this area, get in touch with us today.
London Bridge letting agents – rental market experts
London Bridge's rental market is extremely active, something that benefits both landlords and tenants. There are hundreds of properties to choose from, and they're usually taken up quickly, due to the area's popularity.
Landlords
Our property letting and management service covers the entire letting process from start to finish. We assist with finding the right tenants, collecting rent, addressing renter issues, and more. We're also on hand to help with identifying the right buy-to-let property, with a view to generating a good yield for landlords, and profit through capital growth.
Tenants
We're specialist SE1 letting agents, and have a wealth of properties on our books for tenants to choose from. The rental market is dominated by apartments, though occasionally, terraced properties do become available. This makes the area ideal for young professionals and city-workers, especially those who want to live near the Thames.
Price trends in London Bridge
Like many other locations in the SE1 postcode, London Bridge property prices have largely stabilised in the last few years, with a few minor fluctuations. They hit a peak in 2019, and look set to start climbing again in the near future.
There are plenty of good investment opportunities for landlords in London Bridge, and the average rental yield is appealing when compared to the London average. Likewise, the promise of plenty of prospective tenants is a major draw, as it means the property is unlikely to have any void periods.
London Bridge estate agents – area recommendations
If you're looking to purchase or rent a home in London Bridge, but aren't sure where to start your search, here's further information about the area, and the other locations nearby.
London Bridge
London Bridge is one of the capital's most interesting places. It's steeped in history, but the streets are also full of modern apartment blocks and forward-thinking businesses. It's also one of London's greenest areas, with several parks nearby, not to mention the path along the Thames and Borough Market.
Borough
Situated in Southwark, Borough is one of the oldest areas of the capital. Borough High Street is full of restaurants, characterful pubs and bars, which makes it popular with younger city-workers. It's also home to numerous primary and secondary schools.
Tower Bridge
Tower Bridge is just a short distance from London Bridge. It's here that you'll find Shad Thames, which houses a wealth of converted warehouses, and these properties are always in high demand.
Specific areas in London Bridge
London Bridge has a lot to offer its residents. If you're thinking of investing here, or renting a property, here's a quick run-through of the top streets in the area. To find out more about the best parts of London Bridge, get in touch with the Hastings International team today.
Tooley Street. Tooley Street is one of the area's best-known roads, and you'll find some excellent modern developments in and around it. The streets leading from Tooley Street, such as Bermondsey Street and Shand Street, are a bit quieter and offer convenient proximity to the station.
Leathermarket Gardens. Leathermarket Gardens is a haven of peace in the heart of the city. As such, it's a popular choice with families, and properties are always bought quickly when they come on the market, especially those that offer views of The Shard.
The riverside area. Many people move to London Bridge to make the most of the excellent views of the Thames. Apartments in developments like One Tower Bridge are highly desirable, and have views of the river and the surrounding city.
What we do
Our London Bridge team have years of experience helping homebuyers, sellers, landlords and tenants. We've got a large team, which is led by Thomas Backlog MNAEA and we specialise in not only property sales and lettings, but also rental management, contract negotiation and more.
Our comprehensive services cover all aspects of selling, buying or renting a home. If you've got any questions about investing in property in London Bridge, or if you'd like to sell your house or apartment, get in touch with our SE1 estate agents and letting agents today.
Why us?
Here are just a few reasons why you should consider working with Hastings International when you're buying, selling or renting your London Bridge property.
Expertise and experience. Our team have decades of experience between them, and know the London Bridge area inside-out. This means they're well positioned to recommend the best roads, and to find the most suitable properties to match your requirements.
Bespoke approach. Everyone has different needs, which is why we tailor our approach to each individual. We also offer bespoke letting management packages for landlords.
International buyers. We've got connections with several major buyers in the Far East, which improves your chances of attracting an international buyer for your property.
Are you searching for an estate agent or letting agent in London Bridge? If so, get in contact with our London Bridge branch today.
Areas covered by London Bridge Estate Agents