Hastings International are the premier sales and letting agents within Shad Thames. We offer a range of services for homebuyers, sellers, tenants and landlords, and have in-depth knowledge of this sought-after area.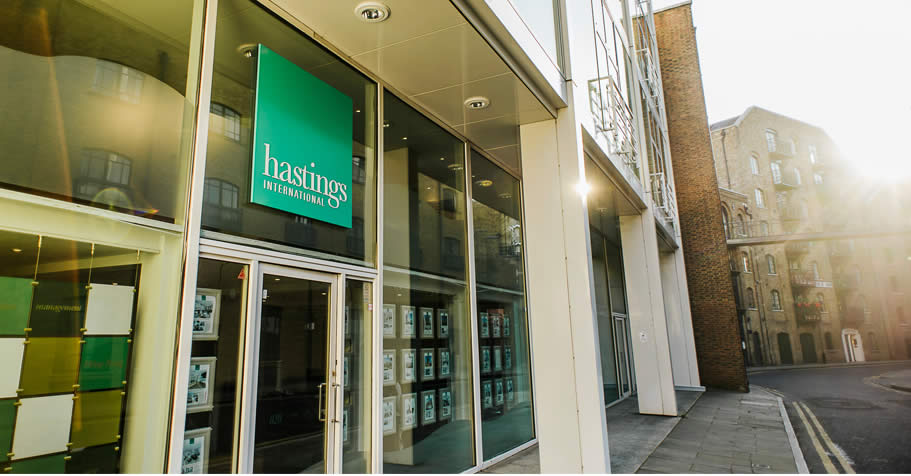 Our offices are within the heart of Shad Thames, in Saffron Wharf, which is just a few minutes' stroll from Tower Bridge and the river. We're open seven days a week and have a variety of properties on our register from character converted warehouses to stylish modern apartments.
Shad Thames Property
As specialist SE1 estate agents, we offer a wide range of homes within Shad Thames. We also have some excellent apartments to rent, which are ideal for young professionals. It's important to note that Shad Thames is one of the most desirable locations in this part of the city, thanks to its characterful buildings and proximity to Tower Bridge. As such, it's slightly more expensive than nearby areas like Rotherhithe and Bermondsey.
The most popular properties in Shad Thames are the river facing converted warehouse apartments. These have a wealth of period features, such as exposed brickwork, winches, iron beams and original signage. There are also some luxury riverside developments on the market, which offer excellent views of The Thames.
Our teams have expert knowledge of Shad Thames and the surrounding area. So if you are looking to buy, sell or rent a property here, get in touch today.
Shad Thames letting agents – expert knowledge of the rental market
Shad Thames is a popular location for renters, and as such, there are plenty of available properties to choose from. Due to high tenant demand, they don't tend to stay on the market for long.
Landlords
Our property letting and management service is designed to support landlords in the Shad Thames area. We're on hand to assist with all aspects of the rental process; from finding the right tenant, to ensuring rent is paid on time, and handling any issues that may arise through our comprehensive management services.
We also offer advice on where to invest, and can help with identifying the most profitable properties.
Tenants
We've got several properties to let within Shad Thames. If you're a tenant, actively seeking a home to rent within the SE1 postcode, register with our lettings team to ensure you receive notifications whenever new properties come to the market. The most common homes are one and two bedroomed apartments, though occasionally, there are also three and even four bedroomed options. Houses are extremely limited, though there are a few terraced properties in the area.
Price trends in Shad Thames
Shad Thames property prices have remained fairly stable in the last couple of years, with a few small fluctuations. They've yet to return to their peak of 2016, but overall, it seems that the market has stabilised, and may start to climb again in the future.
The current prices offer excellent value for money for landlords, and the chance to invest in a buy-to-let that will offer a solid rental yield. As letting agents in Shad Thames, we've got the knowledge and expertise to advise on how to maximise profits, both from rental income and capital growth.
Shad Thames estate agents – area recommendations
If you're interested in renting or investing in property in Shad Thames, here's some useful information about the location, plus other areas nearby.
Shad Thames
Once part of the largest warehouse complex of London, Shad Thames is unusual in that it retains most of its historic personality. It's a small area, bordered by Tower Bridge Road, Tooley Street, and the Thames. Despite this fact, it's full of fine riverside restaurants, cafes and independent businesses. There are also some excellent schools nearby, and several tube stations too.
Bermondsey
Bermondsey is also popular and like Shad Thames offers great views of the river. There are converted warehouse properties here too and it has a trendy, progressive ambiance that appeals to people of all ages.
Tower Bridge
The streets around Tower Bridge Road are sought-after and are a good option for those seeking proximity to Shad Thames. It's got a rich history and several pleasant pubs, eateries and bars. There are also some great educational establishments, such as Riverside and Tower Bridge Primary Schools.
Specific areas in Shad Thames
Below, you'll find a quick guide to the best streets in the Shad Thames area. There are other options too – if you'd like more details, get in contact with our Shad Thames estate agents in branch today.
Shad Thames
The main street is of course, Shad Thames itself. This is where you'll find many of the attractive warehouse conversions, and also some high-end contemporary developments, such as Spice Quay and Tea Trade Wharf. The street stretches right round to the riverside and the properties at this end are particularly well-regarded, due to their scenic river views.
Queen Elizabeth Street
Queen Elizabeth Street is just off Shad Thames, and also has a number of period warehouse conversions. The Circle is a notable development here.
Curlew Street
Running parallel to Shad Thames, Curlew Street is home to one of the area's most notable buildings; Vanilla and Sesame Court. Like much of Shad Thames, it's a relatively peaceful road too; something that appeals to residents.
What we do
We've been operating as SE1 estate agents for over 25 years. During this time, we've helped countless homebuyers, sellers, landlords and tenants to buy, sell or rent the ideal property. Our team don't just specialise in sales and rentals; we've also got skills in a range of other areas, such as buy-to-let management and contract negotiation.
Thomas Backlog leads our Shad Thames team, and has considerable experience in this area. If you'd like to find out more about Shad Thames, properties in the SE1 postcode, or any other location nearby, simply get in contact with us today.
Why us?
If you're searching for the right estate agent in Shad Thames to work with, here are just a few reasons why you should consider Hastings International.
Personalised service. Whether you're purchasing, renting or selling a property, we tailor our services to match your exact requirements.
Experience. Hastings International have been operating for over 25 years, and we've got a formidable reputation in the area.
International clients. Our extensive connections in the Far East mean more investment opportunities. We're the estate agents to choose if you want to attract serious international buyers.
To find out more about our lettings, property listings and more, contact our Shad Thames office today.
Areas covered by Shad Thames Estate Agents