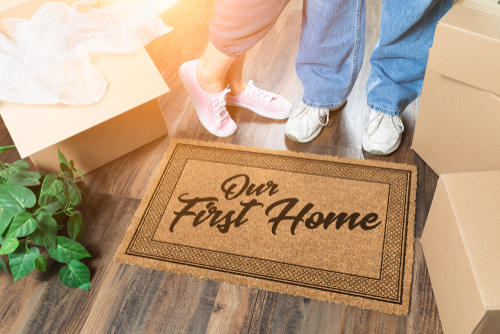 Buying your first home is an exciting experience. It's one of the biggest investments you'll ever make, so it's important to get it right.
If you're thinking of purchasing your first ever property, here are some useful tips to help you.
The best tips for first-time buyers
Save for a deposit. The days of 100% mortgages are long gone, and as such, you'll need some money for a deposit when you're buying a home. Experts recommend creating a 'saving plan' – putting aside some cash each month to put towards your house purchase. At present, you'll need around 5% to 10% of the property's overall value as a deposit. This works out as £5,000 to £10,000 against the purchase of a £100,000 home, for example.
Spot upcoming areas.. If you'd like to make a profit from selling your house in the future, it makes sense to search for locations where property prices may rise in the coming years. Key things to look out for are areas that are:

Being regenerated
Due to benefit from improved travel links
Expanding to feature more local amenities / attractions
Get the right light. When it comes to visual appeal, lighting is everything. A cloudy day results in dingy, unappealing videos, so wait until the sun comes out if possible. Likewise, the virtual tour should be carried out during the day, not late in the evening. Artificial light isn't great for enhancing your interiors, and if it's dark outside, you won't be able to show off your outdoor space.
Don't take on more than you can handle. Properties that require updating can be great investments. However, if they require major structural change or cosmetic upheaval, it'll take time, effort and cash to get the work completed. That doesn't mean you shouldn't consider a 'doer-upper', but make sure you're aware of what's involved before committing.
Look into government schemes. The government's Help to Buy scheme is designed to help buyers take their first step on the property market. You can find out more about it here. Shared Ownership is another option.
Factor in the other costs. There's more to buying a property than paying the price of the house itself. You'll also need to factor in solicitor's fees, survey costs, buildings insurance, mortgage arrangement fees, and removals costs (if you're hiring a removal firm). Work out what you'll be spending before you start your property search.
Shop around for mortgages. When looking for a mortgage, you should compare as many products as possible. A fixed rate mortgage has the advantage of being predictable, as you'll know exactly what you'll be paying each month. A variable mortgage isn't fixed, which means it'll go up and down. This is great news when interest rates are low – but can get expensive if the rates suddenly rise.
Seek professional advice. . If you're not sure where to start your house search, get in touch with a local estate agent. They're there to help, and are also familiar with the location you're interested in, so they'll be able to offer tips on where to focus your search.
If you're a first-time buyer, Hastings International can help you find the perfect property to buy. Please visit our Buying Property page or get in touch with one of our team.
References
https://www.which.co.uk/money/mortgages-and-property/mortgages/mortgages-and-deposits-the-basics/how-much-deposit-do-you-need-for-a-mortgage-acs1c3t6f9r0