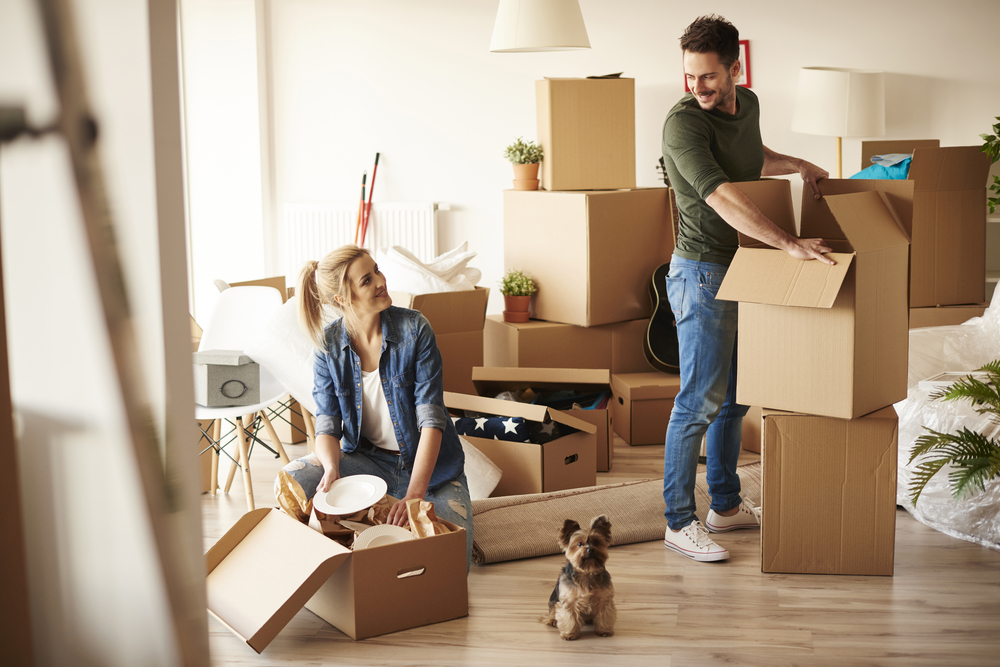 Moving house is an exciting prospect – especially if you've signed the contract and are ready to go. The coronavirus pandemic has added uncertainty regarding whether you're allowed to move or not – the good news is that you still can, and much more besides.
What's the government's stance on the matter?
The government's official recommendation is that the purchase and sale of property can continue, but if feasible, should be delayed until the lockdown has been lifted. This could mean postponing your move for a few weeks.
However, if it's not possible to delay the move, you're legally allowed to proceed with it, and won't be breaking the terms of the lockdown if you do so.
Here's some advice to help you.
Advice for moving house during the coronavirus pandemic
Step 1 – Renegotiate dates if possible
The official recommendation is that all moving dates should be postponed wherever possible. In order to shift your moving date back, you'll need to get in contact with your estate or letting agent, who will be able to assist with the negotiation process.
In most cases, all parties involved will be happy to delay the move until the country emerges from lockdown. However, in some instances, this might not be possible. The contract may stipulate a specific date for moving, and if one party refuses to adjust this, then legally the date still stands.
Step 2 –Know your rights
This is particularly important for tenants. Your landlord doesn't have the right to evict you during the lockdown. As such, if your contract expires during this time, you're technically able to remain in the property until the government has lifted the restrictions – so you don't need to plan to move yet.
Step 3 – Check your removal firm is still in operation
The British Association of Removers issued a recommendation to the UK's removals companies recently, stating that all future removals services should be cancelled or suspended for the time being.
However, this is only a recommendation, and isn't legally binding. That means that some removals firms will still be operating throughout the lockdown.
If you've already booked a removals company, it's important to check that they're still happy to help with your move. If you've yet to book, be aware that it may be difficult to find a business that's willing to offer their services at this time.
Step 4 – Keep everyone safe
If you or any of your family have any Coronavirus symptoms, it's vital to let the removals company know as soon as possible. Extra steps can then be taken to ensure the safety of everyone involved.
During the move, it's advisable to practice social distancing as much as you're able to. Maintain a two-metre distance at all times, and provide the removals workers with supplies, such as their own soap (and access to a sink) and hand sanitiser, if you have any.
Practice good hygiene yourself too. Regularly wash your hands throughout the day, and wear gloves when you're touching objects that have been handled by people outside your family group.
Step 5 – Keep travel to a minimum
In some instances (for example, if your new home is a distance away), you'll have to travel by car. If you're moving somewhere closer, try to limit the number of journeys you take, and travel only when necessary.
What are you allowed to do?
You are allowed to:
Move house, although the government recommends postponing the moving date until the lockdown is finished
Work with a removals company, providing they're still operating during this time
Put your house on the market to sell it
Exchange contracts on a property
You're not allowed to:
Let prospective buyers view your house in person / attend a viewing – however, virtual viewings are acceptable
Have people in the home that aren't strictly necessary at this time (e.g. photographers for taking pictures of the property, or surveyors)
Move home if you have coronavirus symptoms, unless it's entirely unavoidable
You can find more advice on moving house during the COVID-19 pandemic on the GOV.UK website.
Here to help
Our team are working safely from home during this time. However, that doesn't mean we're not still actively helping our clients!
We're still offering free house appraisals and valuations for both sales and lettings which can be carried out online or by phone. This means you can start the process of getting your home on the market and be one step ahead of the competition when the lockdown is over. Visit our valuations page for details.
We also offer online virtual viewings, which gives buyers and tenants the chance to explore the properties they're interested in, from the comfort of their own sofa.